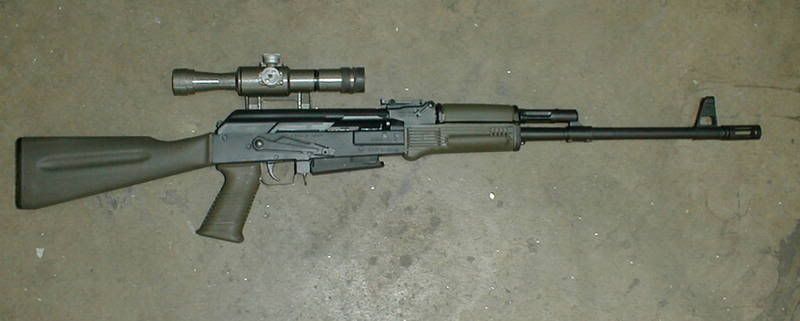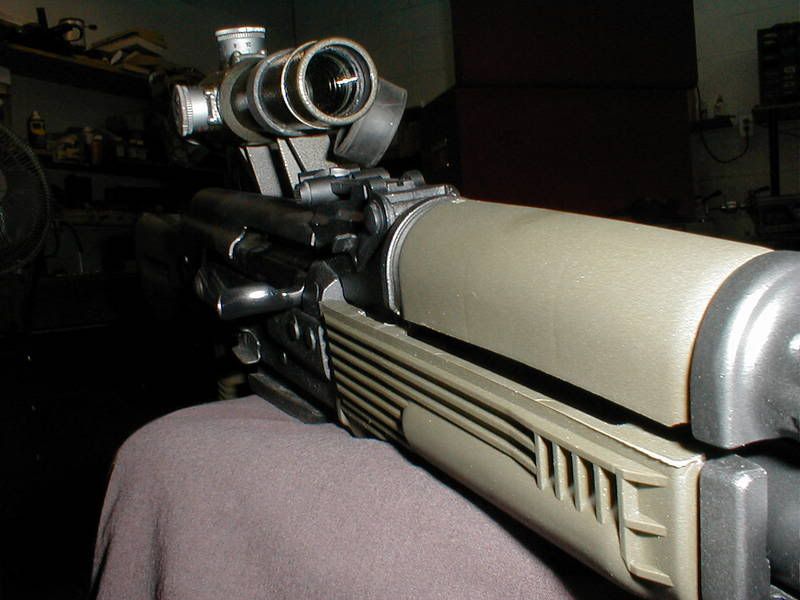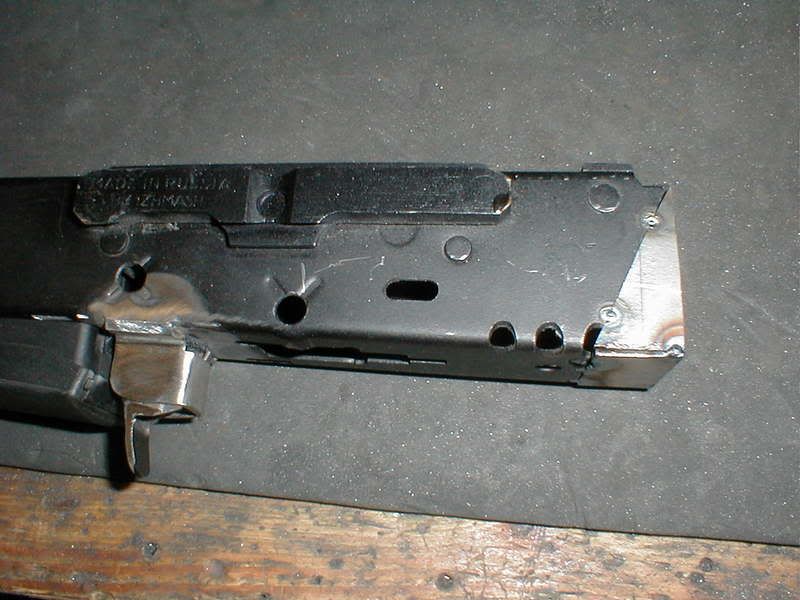 Here's 28 simple steps to make your Saiga 100 30'06 look like a regular AK.
1. Weld in triangular receiver extensions at the rear of the receiver to mount the butt stock.
2. Weld a new top tang to the back of the receiver.
3. Weld up all the extra receiver holes including the cross bolt safety holes.
4. Cut a new R/H safety hole and slot. Drill L/H safety hole.
5. Weld in a safety over-travel stop.
6. Remove front magazine catch and weld in new front engagement shelf.
7. Install rear magazine catch with modified engagement lever.
8. Install modified trigger guard.
9. Cut G2 trigger off of its base and weld it back on, ½" rearward.
10. Weld up hand guard screw hole.
11. Modify G2 hammer by cutting it back for clearance around the receiver cross rivet.
12. Modify G2 hammer by turning down both bosses to .310" and machine to clear ejector.
13. Machine a groove in the scope rail to allow installation of PSL optic.
14. Weld and machine lower "V" groove in scope mount rearward ¾" for PSL mounting.
15. Modify lower hand guard to allow it to fit into the receiver at the rear.
16. Machine forward hand guard retainer.
17. Drill and tap barrel for hand guard retainer installation.
18. Press off sling swivel band.
19. Cut barrel back from 22" to 20", machine for .308 sight tower, and thread 14mm.
20. Machine barrel cross slots and pin sight tower in place.
21. Recrown barrel.
22. Machine 14mm flash hider.
23. Weld in pistol grip hanger.
24. Drill disconector and trigger to install heavy duty spring.
25. Machine AK top cover ejection port rearward 3/8".
26. Machine lower handguard to clear rear sight base loop.
27. Blast and refinish.
28. Drink a beer.
Tony Rumore
Tromix Corp
Edited by TonyRumore, 09 November 2010 - 10:51 AM.