I had been eyeing the Arsenal SGL-41, an "unsporterized" version of the Saiga-410 ever sence they were introduced. When the price dropped to $489, I couldn't pass one up. I ordered mine through Altantic Firearms and got it a couple of days ago.
The SGL-41 uses a black synthetic military AK rear stock, pistol grip, upper and lower handguards (all of which are made in the US). The fire control group is also made in the US. It also uses a standard AK front and rear sight, as well as a AK-74 90 degree gas block. It uses .410 3" shells only. Other US made componets are a AK-74 style muzzle break.
When I first took the shotgun out of the box the first thing that struck me was the finish looked to be a much better quality than what I have seen on the Bulgy Arsenal rifles or Saiga shotguns. The sights were straight and in line with each other. I noticed that the gas tube was shorter than on an AKM or AK-74 rifle. The barrel also runs through most of the length of the muzzle brake, "hiding" about 2.5" of barrel length. The front sight block is threaded 24mm and the end of the barrel is also threaded for Saiga external chokes. When compared to my Ak-74s, it is only about an 1 and 1/2 longer, even with a 19" barrel.
I was able to get it out to the range, but was only able to shot a couple different brands of birdshot through it. It hated Nobel Sport 3" and refused to even begin to function using it. I switched to Remington 3" and it function perfectly through both the factory 4-rnd mags and my 15-rnd Surefire mags. 15 rounds of .410 through a semi-auto is a lot of fun (and expensive). I am iching to try some steel case slugs out of it as well as some 3" buckshot.
My overall impression of the SGL-41 is very good, especially for $489. One can convert a Saiga-410 to a military buttstock and pistol grip with little work and expense. But converting one with standard AK sights and upper/lower handguards is quit a bit more work and expensive. It is a lot of fun to shot, no recoil and no muzzle rise. I just wish .410 was not as expensive as it is. A couple of years ago here in Indiana, it became legal to hunt deer with .410 slugs. I may have to try my hand with this next year.
As it came out of the box.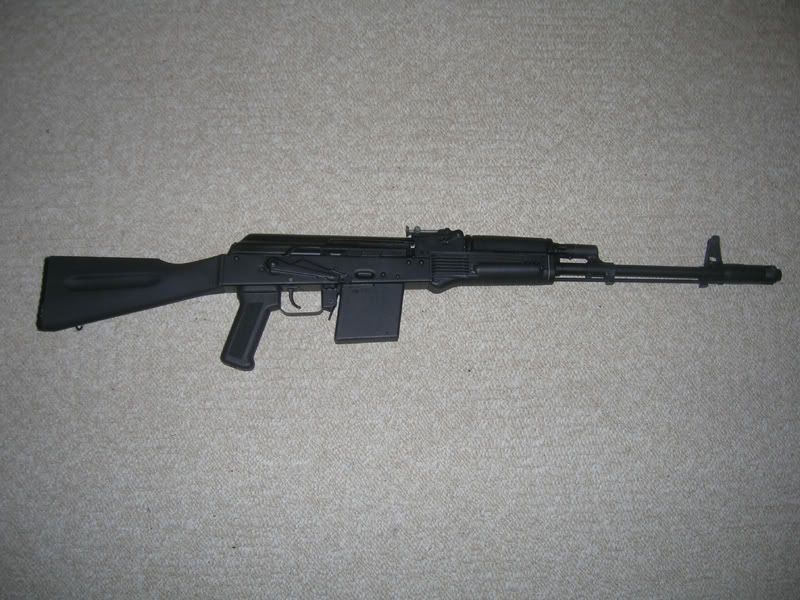 With Surefire 15-rnd mag.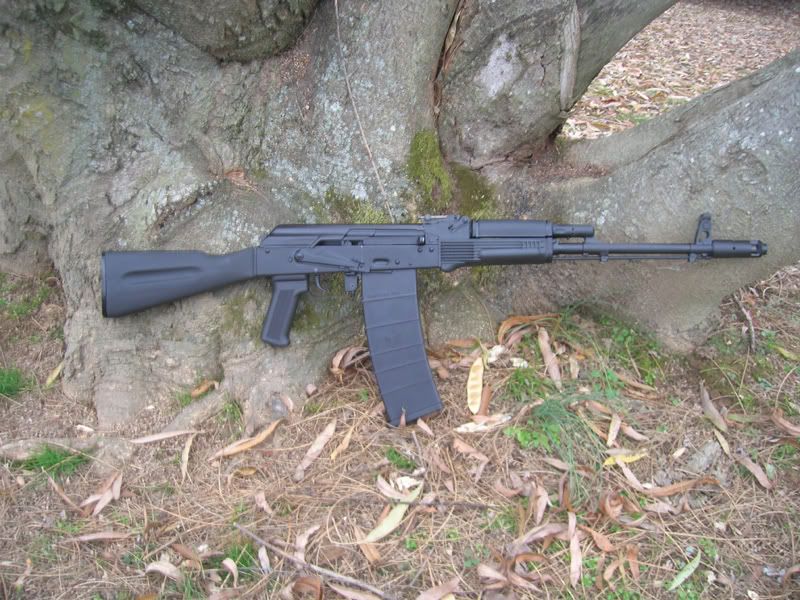 SGL-41 with my Saiga-410.