Been w/ C&S for 15 years.
I am Class-2 mfg licensed, SOT.
The two owners/partners have been doing this for 25 years.
I am 3rd (behind the 2 owners) in line as far as senority, management, and shop authority.
I am completely unsupervised in regards to all my work & (custom) projects. Projects are handed to me, and I hand them back completed.
I am one of the employess who "hand" built the C&S 72rd MP5 drums and Colt M16/9mm drums....worked flawlessly. Machinegun News stated that our MP5 drums were same quality/reliability as the HK MP5 smg itself. One is on display at the Heckler & Koch Museum in Oberndorf, Germany.
Our drum was also shown on the cover of 'The Punisher...Armory' issue...and had a whole page dedicated to our drum magazine also l;isting our name and address
I was heavily instramental in the design of the UZI, M11/9, and MAC-10 72rd drums. Also hand built them. Also flawless performance.
I did not concept/design, but did build all of the C&S Ivan's Hammer shotguns, based off of a Bakail shotgun. They were completley unreliable before conversion, I figured out every 'fix/mod' to make them work 100%.
I designed/built our prototype Saiga-12 from the ground up.
I was the first to make an adjustable gas plug, first to make an SBS (12") w/ factory gas tube to run reliably on birdshot, first ventilated heat-sheild, first fake-suppressor for 19" gun, first extended mag-release axis pin that doubled as a safety-lever stop, and designed the X-stock which has the same length-of-pull and ergonomics as an MP5A2 stock.
Designed the angles on our S-12 bolt/carrier/trigger-pack mods.
Helped in the design of the C&S Krinker-Plinker, 10/22 conversion kit.
Helped make the stamping tools for our triangle AKS-74U Krinkov buttstock for the kit.
My tasks at work are as follows. I am the employee who specializes in our:
Local law-enforcement/SWAT weapons diagnose/repair.
Hk94-to-MP5 conversions.
HK USC-to-UMP conversions.
HK SL8-to-G36 conversions.
Repair of blown-up or damaged 'irreplacable' (ultra high-dollar) registered machineguns.
UZI smg diagnose, repair, modifications.
MAC/M11 smg diagnose, repair, modifications.
1911 builds and custom work.
Saiga builds and custom parts.
All refinishing.
I have also built:
1919 machineguns.
MAC smg frames from flat stampings.
Uzi recievers/guns from folded stampings.
Sten smg's recievers/guns from torch-cut parts kits.
PPSH smg's recievers/guns from torch-cut parts kits.
AK's from folded recievers and parts kits.
Full-auto Glock selector switches.
PPS-43 semi-pistol folding-stock mechanisms.
37mm cannon reproduction/funtioning parts.
Thompson smg billet recievers from 80%'ers.
'Aging/antiquing' military style semi-auto weapons.
I have cut an AR-15 reciever in half and welded it back up w/out any signs of the cutting.
Repaired M16's w/ wobbled out hammer-pin holes.
Have converted semi-auto to full-auto...
UZI, MAC, AK, AR, PPS-43 semi, Glock, HK, TEK 10/22 conversion system, Colt 22 Stainless Semi Auto Pistol, Squires Bingham 22 semi-auto closed bolt to open bolt mg .
My duties also include general gunsmithing/trouble-shooting on machine-guns, assault weapons, and semi-auto handguns & revolvers, concentrically threading barrels, MIG & TIG welding, Mill & lathe, making AOW's and SBS's from Remington 870's, barreling/building AR's and M16's, converting AR-15's to M16's for local law enforcement, designing/building custom (one-off's) weapon parts/acc, prototyping, desining & making welding/machining jigs, etc.
Basically everything except designing on CAD for the CNC machines.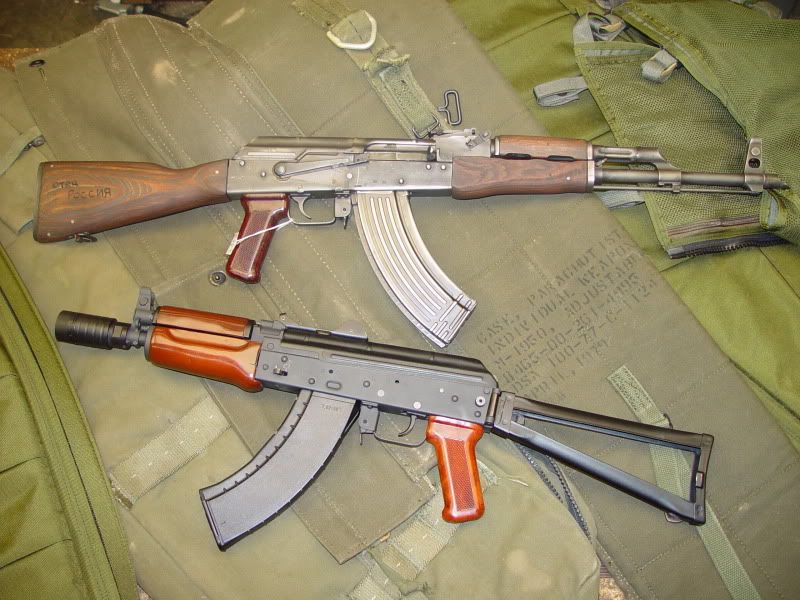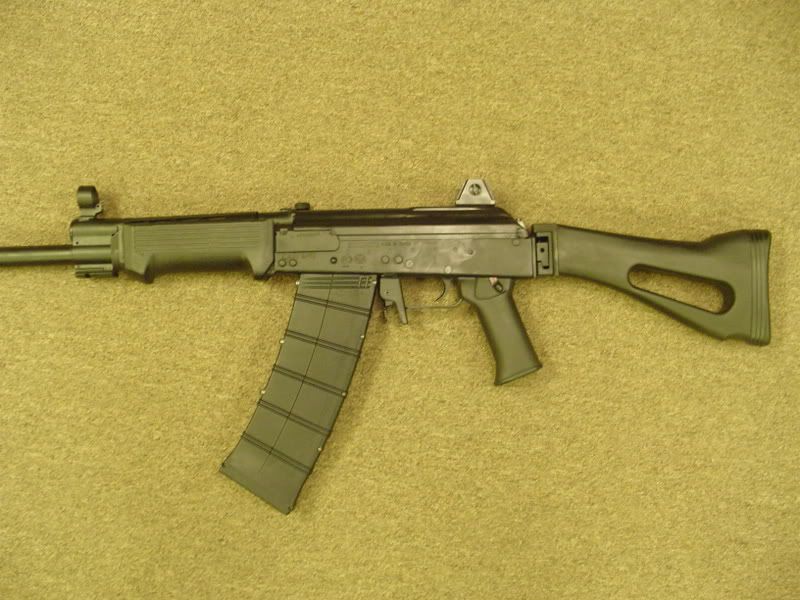 Matt
C&S