Ever since getting to bring home my AOW, I've been looking for a suitable mode of transport for it. All the pistol cases I came across were too small, carbine cases were annoyingly large, Pelican cases are great but rather expensive, and all of the "briefcase"/photo gear looking cases on eBay either looked like Asian garbage or were also more money than I wanted to pay.
I found an Allen pistol case designed for T/C pistols (Contender/Encore) that other AOW owners had recommended and it looked great. The only problems were price (around $40, honestly not too bad considering I was looking for something that apparently didn't exist), and if I decide to remove my pistol grip in exchange for a "birdshead" type grip, the shotgun would no longer fit in the case. The new Shockwave Raptor grip looks like something I need in my life, so this case wasn't going to do.
Now searching for T/C type cases I came across the Ace Case company and ordered one of their nylon/handled pistol cases. I'd definitely recommend it to any KEG12, or Serbu SS owner. The new Black Aces Magfed AOW crowd might also be able to fit an unmounted magazine in the case as well.
Perfect fit.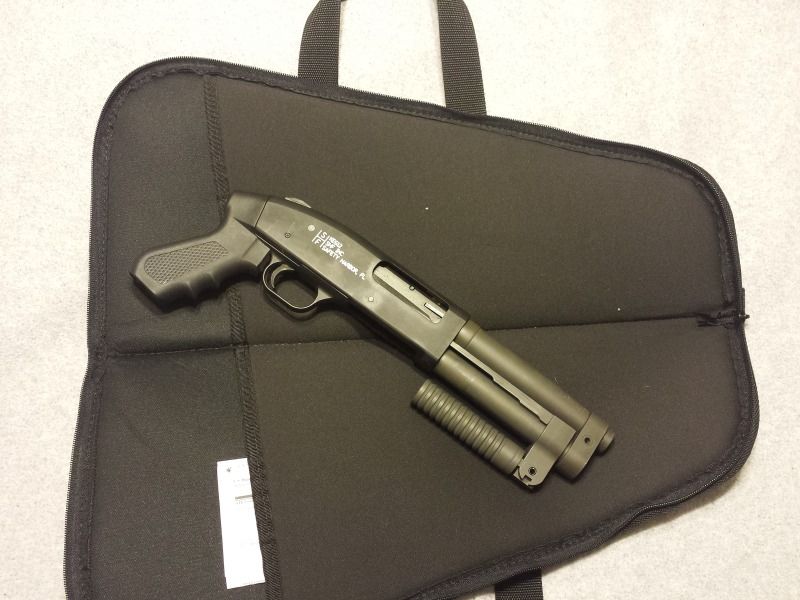 Pros:
The Quality, it's not a piece of shit. I hate getting something that perfectly fits the application I need only to have it end up garbage. I don't see this thing wearing out any time soon.
The Price, this case is budget priced, but still high quality, the case was only $16
The size, it fits my shotgun awesomely, and has enough room that if I want to add the Raptor grip there shouldn't be any issues. (1911 magazine for reference)
Inside pockets, I'm sure they're great for extra T/C barrels, but they work even better to keep a copy of my ATF paperwork for overzealous gun snobs and law enforcement.
Lifetime warranty
Made in America
Lockable zipper, sure it can easily be defeated by a pocketknife, but the option is there to keep out prying eyes and other low security threats.
Opens 180*, I've sat countless guns on zippered cases laying on the ground before, only to have them slide off the side and end up in the mud, won't be happening here.
Cons:
$12 shipping on a $16 case almost made my head explode... although it did arrive rather quickly and had tracking.
It's not the most discrete case... it looks like your generic soft rifle case, just smaller. Not necessarily a bad thing, and that wasn't what I was after. (I'm sure a tool/instrument/sports equipment case would be more suitable for that application anyway. )