Since I havent seen anything like this posted as of yet, Im going to do it for future reference and those wondering the differences in these rifles vs. the Saiga series.
We all know the basic differences the Vepr rifles bring, and where they are made. So no need in stating the obvious.
One thing I havent seen on one until now, was a factory threaded barrel.
The internals are laid out in traditional fashion, and already comes with the trigger assembly in the correct position, and the tall rear trigger guard rivet. It also has a retaining plate instead of a crook.
The trunnion is marked rather neatly from the factory. These marks will appear throughout the rifle.
The rear sight leaf is numbered to the rifle on the underside.
The gas tube is not vented, and is also numbered to the rifle. These rifles will accept any standard Russian gas tube.
The gas block is chrome lined, as is the chamber and bore like usual. It is also pressed one, and is not vented. There is a clamp that is pinned to the barrel that holds the walnut handguard in place securley.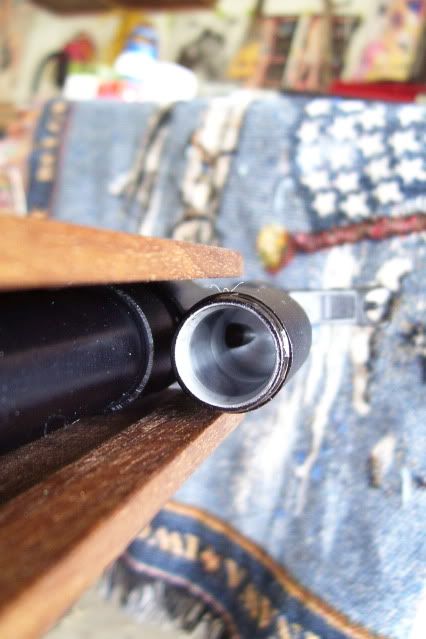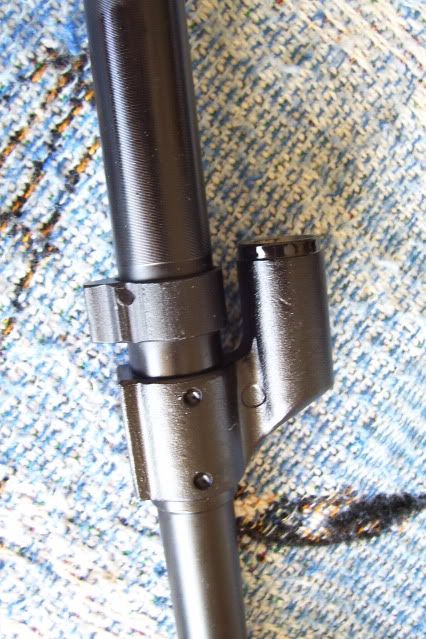 More of those pretty marks on the barrel near the trunnion.
These rifles have no dimples in the reciever, but they do have heavier duty guide rails. Also note the recess in the front trunnion for the magazines to clear without modification. Another military feature the Saiga sporters lack.
The RSA is another part that is different from the standard AK. The bottom pic shows the difference. Vepr on the right, standard AK on the left.
The bolt carriers appear to be damn near identical. Vepr on the left, 100 series on the right from an SGL31.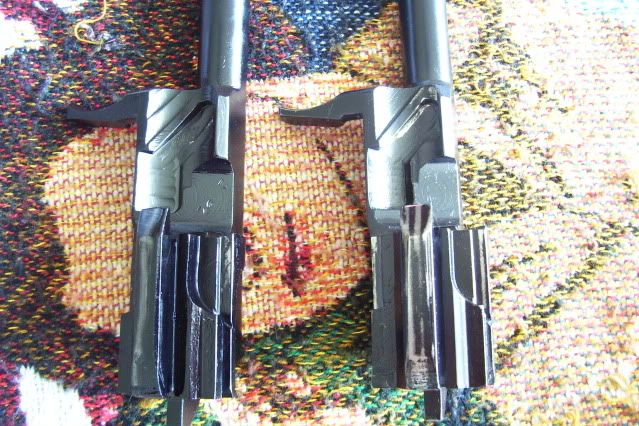 The pistons are different as well. Vepr on the left, standard on the right. Notice how the Vepr piston is much thinner than the one that came in my SGL.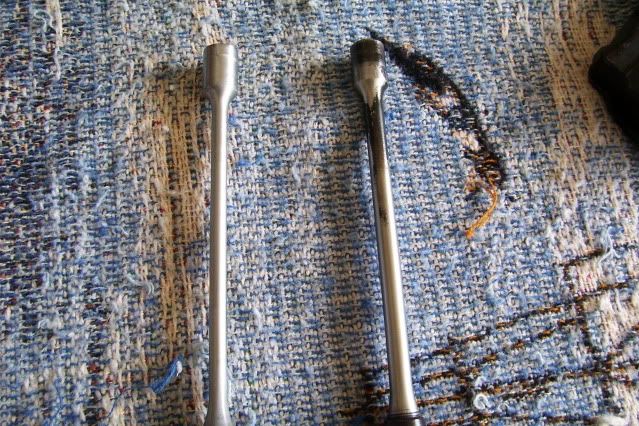 The bolt is also different, lacking a black finish, also having the pretty markings, and notice how the bolt head and extractor are numbered to the rifle.
Also, the front trunnion rivets are in different locations, likely for the heavier barrel, but still retains the "3rd" rivet to aid the bolt in unlocking.
Vepr on right, SGL on left.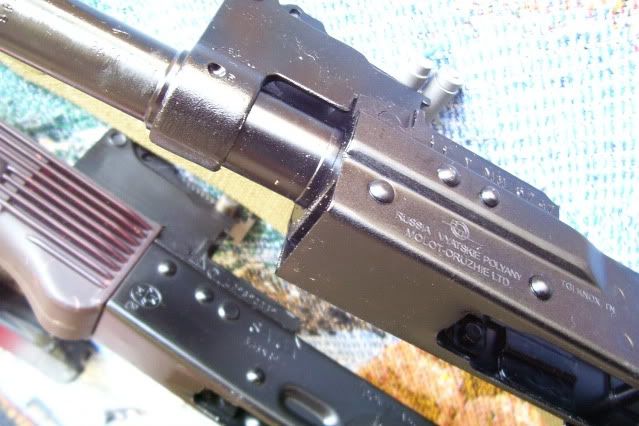 Hopefully this will help clear up some confusion that some may have when it comes to these rifles. The overall quality is higher on these vs. the standard Saiga's as one would expect. I look forward to getting my hands on a Saiga M series to do a better comparison between the two.
Overall, I feel these rifles are worth the price. From muzzle to buttstock, these rifles really are quality.
Edited by Captain Hero, 16 September 2012 - 01:31 PM.